Bachelor of Science in Turfgrass Science
Build Your Career with an Online Turfgrass Degree
Expand your expertise in turfgrass science and business management and maximize your career potential with a Bachelor of Science in Turfgrass Science. In addition to covering such topics as pesticides, turfgrass breeding, genetics, and plant nutrition and fertility, the program also encompasses soil science and water quality course work. The online bachelor's degree in turfgrass science is also designed to sharpen your skills in such areas as business management, communications, and basic and applied sciences.
Why a Turf Degree Online at Penn State?
Legacy — Penn State became a leader in turfgrass education in 1929 when we launched one of the first turfgrass programs in the United States. As the first university to offer a two-year technical program specifically for golf course superintendents, and as the first to offer an undergraduate major in turfgrass science, we built a solid foundation for the turfgrass management programs that we offer today through the World Campus:
Bachelor of Science in Turfgrass Science
GCSAA Credits — the credits you receive for your Penn State turfgrass courses may be used toward Golf Course Superintendents Association of America education points to meet entry and/or renewal requirements for Class A and/or Certified Golf Course Superintendent (CGCS) status. In addition, GCSAA education points earned by members through attendance at the National GIS Education Conference and Golf Industry Show seminars may satisfy some requirements of the turfgrass undergraduate degrees or certificates. If you have questions about receiving these credits, please speak with your adviser.
Renowned Faculty — Dr. A.J. Turgeon, emeritus professor of turfgrass management, is the retired director of World Campus turfgrass programs. He has written more than 300 publications, including the popular textbook Turfgrass Management, now in its ninth edition.
Turfgrass Video
Learn more about the World Campus turfgrass programs in this video: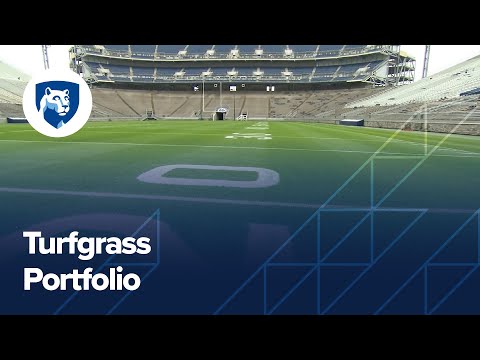 Who Should Apply?
If you have an interest in the turf industry, the bachelor's degree in turfgrass science can give you the skills and advantage you need to move ahead. Taken independently or as a follow-up to the advanced certificate or the associate degree, this program provides an integrated curriculum that can help you prepare for any career related to turfgrass management.
Career Opportunities for Graduates
The Bachelor of Science in Turfgrass Science was created for golf course and sports field professionals who want to take their careers to the next level. Those with a degree in turf management can work in a variety of positions, including:
golf course superintendent
athletic field manager
grounds manager or foreman
industry sales
Online Education at Penn State
Penn State has a history of 100+ years of distance education and more than a decade of experience in online learning. We create an online learning environment that offers you the same quality education our residential students experience in a face-to-face setting. Learn more about Penn State World Campus.
Additional Info
U.S. Toll Free: 800-252-3592
Local/International: 814-865-5403
Fax: 814-865-3290
pennstateonline@psu.edu